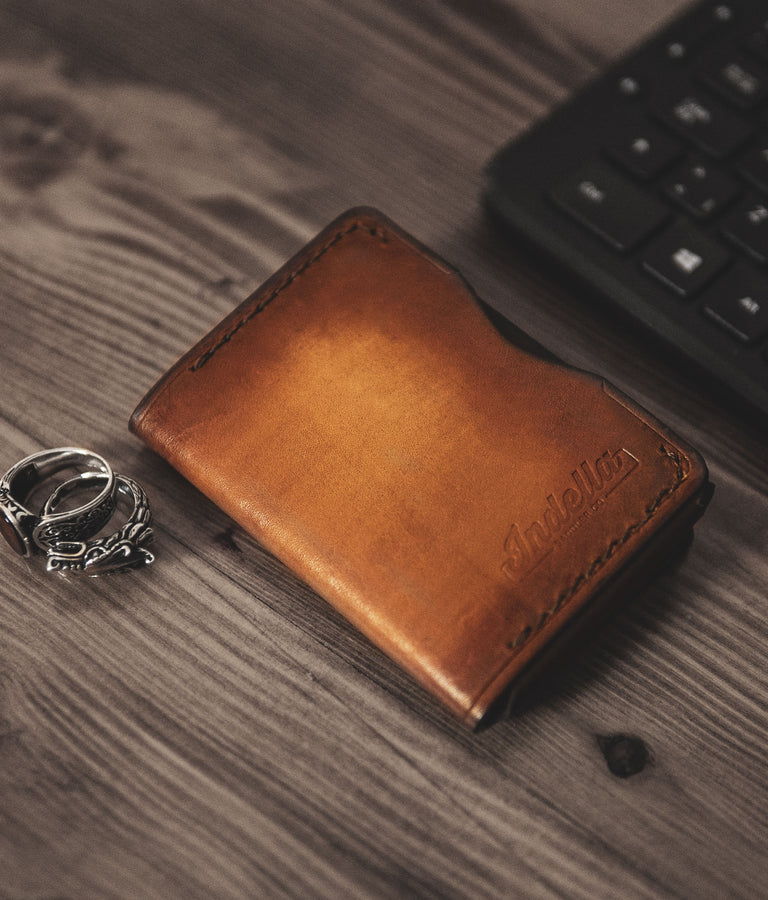 Mens Trifold Leather Wallets - Chico
: In stock
: Leonadem
: Bifold Wallet
: Handmade
: 2 - 3 days
You are faced with a mens trifold leather wallet that reflects the British style you see in the photos. It will be a very elegant choice for those who prefer suits in daily wear. The outer leather of the mens trifold wallet is 1.4mm thick. It is made with leather obtained from cattle grown at the peak of the Taurus Mountains in Anatolia. The soft leather inside the trifold wallet is 0.8mm thick and is obtained from calves fed with milk. Dyeing was performed by using 100% cotton. We use the leather polish, which is one of Turkey's most famous product of the brand Leflef. Stitching of the leather wallet is done with silver needles and waxed threads are also preferred.

PAINT TECHNIC
This wallet leather is completely hand-painted and completed with one hundred years of painting techniques. The effective transition of brown is for those who prefer a classic-vintage style.

About Wallet Usage
This stylish mens leather wallet will give you great comfort beyond what you have, unlike other mens wallet. In our mens trifold leather wallet, there are 5 slots and this means that it can carry 7-10 cards in total. This mens trifold wallet, thanks to its slim design, does not stay puffy in your pocket like other fabricated trifold wallet. This mens trifold leather wallet is 2,75" x 3,85" x 0,35" in size and we have done best to have a minimalist design.

Our mens trifold wallet is very light in size and has soft leather. Moreover, this handy trifold wallet has a weight of only 1,90 oz.

And after a short wait, this mens trifold leather wallet is now yours!