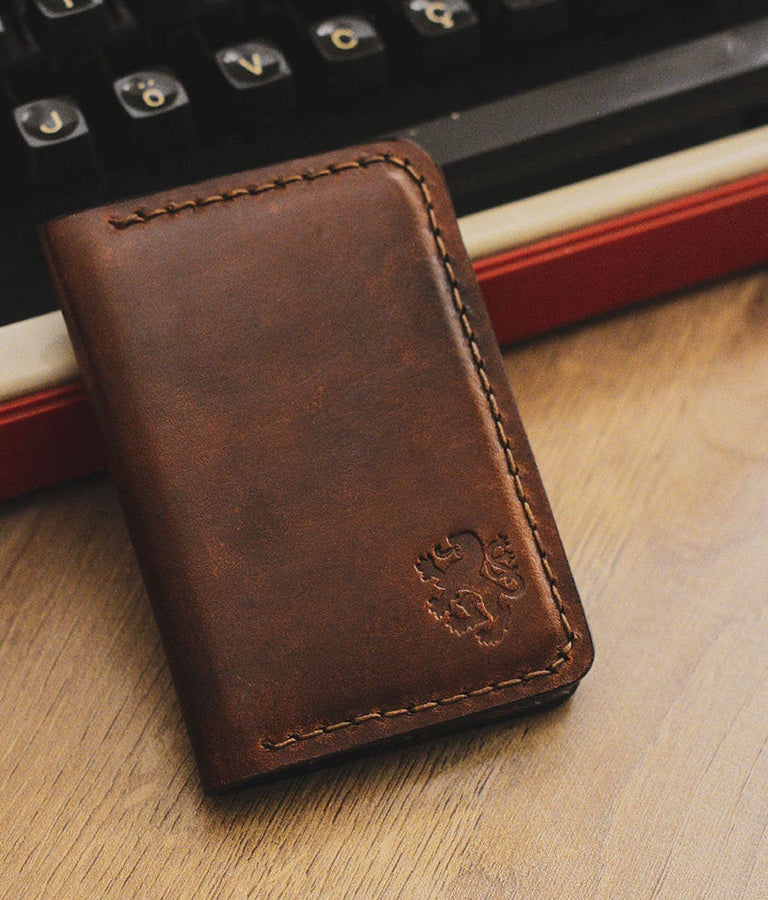 Front Pocket Wallet, Leather Handmade Brown Personalized
: In stock
: Leonadem
: Bifold Wallet
: Handmade
: 2 - 3 days
Front Pocket Wallet
This front pocket wallet is designed for shirt front pockets. All shirts are in appropriate sizes with front pockets. Since the front pocket wallet is sewn with handmade linen thread, it fits in all front shirt and lacos pockets. What's more, the front pocket wallet is crafted from genuine brown cowhide that's just 1.2mm thin. You can also customize this front pocket wallet, we offer a customization facility where you can write your own name.

What Are The Specs Of Front Pocket Wallet?
The features of this front pocket wallet, which is the choice of many business people, are endless, but we have listed the most prominent ones for you below.
Full Grain Vegetable Leather
This leather wallet for front pocket is made of premium Italian leather. This Italian leather is vegetable tanned in Izmir, Turkey. The biggest feature of the leather we use in the front pocket wallet is that it will acquire a darker and oilier texture over the years.
Hand made With Hand Tools
This leather wallet designed for the front pocket is handmade in all processes from raw material to product. We do not create defect-free and flawless wallets as in mass factory production. Surely every product has a small scratch or mark. However, this leather wallet is destined to be. It is not the first and not the last.
Natural and Herbal Tanning
The leather obtained from cattle grazing freely in the mountains of the Tuscany villages of Italy is sent to Turkey and is completely tanned with tree bark and natural medicines in İzmir. After the leather tanning process, it is rested in an airtight environment and purchased by us. We cut the vegetable tanned leather we buy into pieces with Japanese knives, in sizes sufficient for the front pocket wallet.
High Quality Craftsmanship
This front pocket wallet is produced by our craftsmen specializing in leatherwork. There are hand tools that are used entirely in old methods in production. We can count them as follows; "Linen Thread, Silver Needle, Pure Cotton, Beeswax, Japanese Knives and Brass Molds"
How To Make Front Pocket Wallet?
Wondering how to make a wallet designed for the front pocket? The same processes will take place in your wallet and if you want to follow this process closely, How to make front pocket wallet? By clicking on the tab, you can watch the construction process in detail.
Which Combinations Is This Front Pocket Wallet Compatible With?
As a matter of fact, we have a blog that we publish every day and suggest clothing for gentleman men. There are many combination suggestions on the blog. However, there is only one article that I can highly recommend to you. To access the article, look at this 6 Points That Every Man Should Pay Attention to When Wearing a Suit